// December 19th, 2009 // No Comments » // North Carolina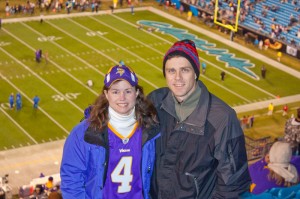 Chad and I spent a weekend in Charlotte! The day we traveled was probably one of the worst weather days in history here in Greensboro, but we decided to tackle it. It was a bad decision because the roads were covered in ice and snow. We ended up doing S-turns on interstate 40. We did, however, survive the trip down to Charlotte (barely). We learned our lesson and won't be traveling in that type of weather ever again.
While we were there, we attended the Skydive Carolina's annual Christmas party. We went shopping at Concord Mills and got to see the Vikings/Panthers football game!
We had a great time. Check out Chad's pictures!
Rhonda