// February 13th, 2010 // 2 Comments » // Grand Cayman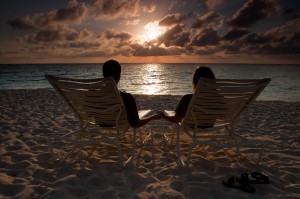 Last weekend, we were without electricity for 4 days due to a winter storm.   We felt we deserved a trip to the beach to get some warm weather and see some amazing sunsets.  So, at the last minute, Chad and I decided to go to Grand Cayman to celebrate Chad's birthday and Valentine's Day.  We arrived in Grand Cayman on Wednesday afternoon (Feb. 10th) on a beautiful sunny day.  The temperature was warm and refreshing at 80 degrees Fahrenheit.  We escaped all the snow and ice in North Carolina!
Our room at the hotel had a great ocean view.  We got settled in and went straight for the beach.  Grand Cayman has absolutely the most spectacular sunsets.  We sat on the beach until the sun set and had a nice dinner at an Italian restaurant called Luca.
The next day, we booked a 6-hour private tour!  Our tour was called Stingray City Eco tour.  Our tour guide was a local named John Michael Stafford.  He owns a 27ft Boston Whaler Outrage and we had it all to ourselves!  The first stop on the tour was to see some wildlife on the edge of a mangrove.  We saw tons of Egrets and a few Blue Herons.
The next stop was to snorkel the reef.  This was my first experience snorkeling.  John was kind enough to teach me what to do.  Once I got the hang of it, it was quite easy.  The coral and fish were incredible!  I wish we had pictures of what we saw underwater because it was amazing.  There were many bright colors such as yellow and purple.  We also even saw a huge lobster.  It was so cool to see!
Our last stop on the tour was to see the hidden mangrove which is a part of a large scale water flow system.  We went down one channel to see some wildlife.  John pointed out that the white blobs in the water were jelly fish.  He later dove underwater to find some urchins so that we could view them up close and feel the sharp spines moving.
We had a fantastic time on the tour and are looking forward to our next trip to Grand Cayman.
Rhonda
Check out all of Chad's photos below!