// October 17th, 2009 // 2 Comments » // Skydiving Trips

It all started back on March 10th when I received an email from my now teammate Shannon.  At the time, I was working in Sweden and she asked me if I was interested in discussing joining the Furies out of Skydive Chicago.  I kindly turned the offer down due to the amount of traveling it would be to Chicago.  I just didn't think I could do it.
Paraclete XP
in Fayetteville, NC.
After each training weekend, you could actually see that we had improved.  Sometimes it's difficult for teams to see improvements, but it was definitely evident for us.  We had two regional competitions to prepare us for Nationals.  At our first meet, we averaged 13.7 points for 10 rounds and at the second meet we averaged 14.7 for 10 rounds.
Nationals this year was held at Skydive Spaceland in Houston, TX.  Texas being my home state, I was very much excited.  My parents were also able to join me at Nationals.  This was their first year to see Nationals and how big the event really is.  I was so glad they were able to come!
Friday:
We arrived in Houston on Friday evening around 6:30PM.  We weren't supposed to arrive until 7PM, but we were lucky and caught an earlier flight out of Greensboro.  It's always a concern whether or not our bags will be there especially this trip since we checked all of our skydiving equipment, but when we got to baggage claim, our bags were already on the carousel.  What a relief!
We then picked up the rental car (mini van) and headed for the hotel.  Our hotel (Springhill Suites Marriott) was a great place to stay.  I would say out of all the Nationals I have been too, it was by far the nicest hotel.  Plus all the cool teams were staying there.  It's like a family reunion at every Nationals, because you get to see friends/jumpers that you haven't seen in a while.  After checking into the hotel, Chad and I decided to have a nice dinner at Johnny Carino's Italian restaurant.
Saturday:
Saturday morning at 9:30AM, we met up with the rest of the team downstairs in the lobby.  Chad finally got to meet the team!  I had been talking to Chad about my teammates all season, but only now did he get to meet them in person.  My teammates are from all over the country.  Shannon (tail) and Charles (video) are from Michigan.   Anabel (outside) is from California and Karyn (point) is the only one from the Chicago area.  Also, I need to mention our coach Brian who is also from California.  Brian was with us every step of the way.  Thank you Brian for all your guidance and support.
The forecast for the Houston area was not looking very good for the day and for the next several days, so we were all starting to wonder how the competition would play out.  Typically the 4-way event is completed in 2 days, but 4 days are planned if weather is a factor.
Then at 2PM, we headed out to the DZ to get registered and to try to make a practice jump.
The weather remained awful, so no practice jump, but we did have a good dinner at Olive Garden!
For Sunday, the weather didn't cooperate either for practice jumps.  We spent most of the day at the hotel again until around 4:30 when we went to the DZ for the briefing and the draw.  Chad had already gone to get my parents at Hobby Airport.  I couldn't wait to see them.  The briefing started at 6PM and my parents arrived just in time!  I was thrilled to see them!  Once we got the draw, we walked the first 7 rounds, creeped the first round and then headed back to the hotel to have pizza and a good night's rest.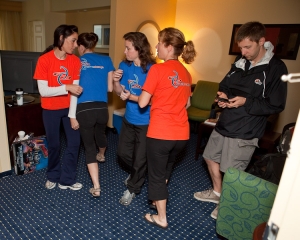 Monday – First Day of Competition:
The day finally came…the first day of competition!  I have been waiting for this all year.  Chad and I woke up at 5:50AM to check the USPA Nationals website for an update.  The DZ told us the night before that there could be a weather hold.  Sure enough, we were on hold until 10:30AM.  Again later at 9:30AM, there was another weather hold until 2:30PM.  Brian actually made a comment comparing this Nationals to 1999 Nationals held in Florida during a hurricane.  To pass the time, we walked all 10 rounds, and then we would walk the first dive once every hour to keep it fresh in our minds.
Right before getting on the plane, all of a sudden, we had clear blue skies.  We now just hoped that we would jump before sunset!  We were going to be first out of the plane. 
The dive for round 1 was 3 blocks and we smoked it!  We should have actually got a 12 on round 1, but there is some kind of limitation with the new scoring system that doesn't allow the last freeze frame to be judged.  We did have 12 points though and not 11!  Oh well, as long as we knew the scoring system was the same for everyone, we were ok.  After round 1, we were in 1st place!  What a great day…
Tuesday – Second Day of Competition:
We woke up again at 5:50AM to check for a weather hold, but nothing was listed.  So, we got ready and left the hotel by 6:30AM.
rd
place.  The entire team was extremely frustrated and it was known by everyone.
A team meeting was called at 8:30PM to discuss the situation.  Brian had each one of us tell what we thought went wrong.  Then we made a plan for the next day.
1) We decided to stay out of the heat.  The DZ had an air-conditioning room, so we choose to hang out there between each rounds.
2) We said we were going to have FUN and not worry about other teams and our standings.
3) Focus more on us and what we know we can do!
Wednesday – Third and Final Day of Competition:
We left the Hotel a bit earlier at 6:15PM.  Based on the weather forecast, it looked like we were finally going to have a good day of jumping.
When we arrived, we went straight for the air-conditioned room to drop off all of our gear.  I could tell immediately that our attitude was different.  Thanks to Charles, the theme song for the day was "All I Wanna Do Is Have Some Fun" by Cheryl Crow which was perfect for the day.
For our first jump which was round 5, we posted an excellent score of 14.  Round 6 was even better!  It was an all random skydive and we were hoping for a great score.  We received a score of 23 which was the highest score for the round out of all the advanced teams. 
nd
place, two points behind the lead team.   We also learned that for just a short time for Round 6 (16 minutes to be exact based on my friend Brenda's calculation) we held the World Record for the most points in 4-way by an all-female team.  Spaceland Blue, a female team out of the open class, took it away when they posted a score of 26.
We were all looking forward to doing round 7.  It flowed really nice and we knew we could do a good job.  We got a score of 14 which put us in 1st place ahead of everyone by one point!  I need to mention too that the score was originally a 13 until Kevin, our packer, found a mistake in the scoring system.  Our round was somehow scored twice, but the 14 was the correct score.  The chief judge (Judy) reviewed everything and fixed the problem.  Thank you Kevin for looking out for us! 

One last thing about this round, I somehow hit my arm on the back of the plane on exit.  At the time, I didn't think it was that bad, but later I found out that it was going to be a terrible bruise! 🙂
st
place leading by 3 points going into the last round!!  I actually didn't know at the time that we were ahead by 3 points.  I only knew we were in 1
st
place and we just needed to hold onto our lead, but then we all found out what round 9 was going to be.  It was a slot switcher for everyone and very difficult for me to get in my head and remember.  We decided to take the round slow and make sure we had no busts.  We did just that, we had a great round and kept our three point lead going into the final round.
Preparing for round 10 was a little different for us because we didn't have our coach there at first.  Our coach was an alternate for another team and he had to go fill in for them.   We knew, however, if we could just keep it together and have a good dive, everything would be ok.  That is exactly how it worked out!  We had a good round 10 and won 1st place in the advanced class!
It is really incredible how we turned things around on the last day of the competition…coming from behind by 4 points.  What a sweet victory for us all!  This is something I have been wanting for a long time.  I have now reached my long awaited goal of winning 1st place in 4-way advanced!!!  So, what's next?
Rhonda
P.S.  Check out all of Chad's great pictures below in the gallery!!